Dear Freckle Face
October 17, 2012
I watch you…
I watch you as you try to cover up the blessed imperfections
That you believe is a wretched curse from the devil himself
However, the only curse I see that you have is being beautiful
I watch you—
As you smear on the "Maybe she's born with it" Maybelline foundation
Trying to hide the red wine sun kissed spots you were actually born with

I wish I could send you a letter,
"Dear Freckle Face,
Stop hiding those burgundy constellations
That is more luminous than magnesium when you light it on fire.
You ignite the fuse to my atomic bomb
Yet, soothe me like vanilla lilac aromatherapy oil
Being massage into my tense sore muscles

"Dear Freckle Face,
If I tell you, your freckles are impeccable
Would you stop trying to scrub them off as though they were permanent burdens?
You treat them as though you had incurable Leprosy
But, the only infected ones are those who tell you, your freckles are hideous monsters

"Dear Impeccable Freckles,
The only sin your seductive mini scarlet paradises have
Is taking pride in themselves even though you abuse them with Photoshop in a bottle,
The lustful glow it sparkles
Makes others envy the mysterious uniqueness created upon your radiance.
It should be inscribed in religious books that your freckles is the 8th deadliest sin

So tell me why…
Why are you burying such magnificence under poison?
Are you scared that God did not know where to place melanin
Do you believe He created certain areas of your face to have more melanin than others as a joke
Or, are you terrified of the thirst quenching wine made from water God used to color your face?

I watch you—
As you look into the mirror
Bawling, you ask your skin
"Would decide already what color you want to be!?"

…


You look at your beautiful pigmentations as a virus,
And all I can picture is you being my favorite page in a coloring book…
If only you knew how special your freckles look.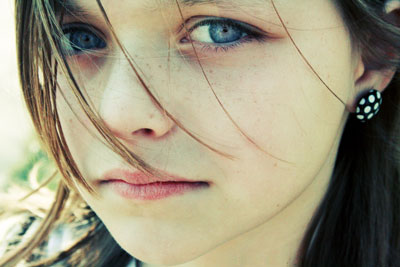 © Felicia R., Arlington Heights, IL