Smile
October 17, 2012
His attire is a unity of green and brown.
It is a sizzling heat scorching skin through the fabric.
His boots carry a sandy dirt that
leaves


a


trail
like a lingering shadow. It is a taste of dust that engulfs arid lungs.

Smile.

His ears shudder frightfully at the launch of a plane.
It is a vibration of explosions bursting in eardrums.
Like being trapped,
20 feet below water.

Smile.

His guarded eyes search the crowd for a familiar face
to help with the sea of bags at his feet.
A sea that separates him from here and there.
A sea he cannot cross on his own.

Smile.

His right leg struggles with such a weight,
added to it by the moment,
the moment when there was a leg to his left
and then the moment when there was only air.

Smile.

You bring one foot forward,
another
and another
until your eye is to his eye and your hand held out to his hand.

Smile.

"Welcome home," you say
and add, "Can I help you with your bags?"
You smile. He smiles.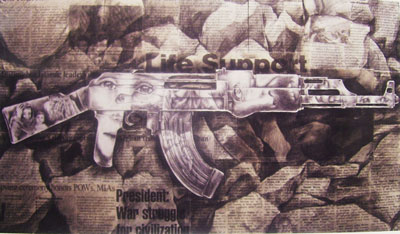 © Claire V., Lubbock, TX