Colors
October 8, 2012
With many of my tools in tow,
And a paper seen by me,
I began to color for a beautiful show
For the viewer to be only thee;
A lovely rainbow thrown across the page,
It is calm to some degree.

Many colors to light the room,
If you saw you might agree;
All the white now a bright shine of vibrant light-
Oh this sight brings me glee;
Some red blue orange and black
Drawn in the shape of a key.

Painted just so, you would know
A person also known as me,
Has colors hidden beneath a shroud, seeming
As volatile as the sea;
You saw them and got scared away
From truly knowing me,
If you took a little time
It would be a courtesy.

The onlookers, the real me they lack,
Think that it's me they see-
Oh!- I am being hunted (like a doe,
I want to be set free)
I'm hiding these colors because of their force,
They may result in a killing spree.

The colors shine bright because of their might,
To see it may cost a fee-
It's not for the faint of heart you see-
It is quite a frightening sight,
If my colors are set free,
You will have to brace yourself and your life,
The colors are very crafty.

Everyone who's seen the colors be mean
Run far away from me;
They try to control but not console
The ones that want to see;
True colors of me, are engulfed in their pride
So much so they can't go outside,
I can't let them free,
They would show the real me.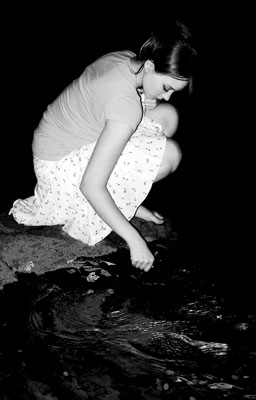 © Michelle B., Blairsville, GA