To My Bestfriend
October 15, 2012
in love...
i'm in love, it surrounds my heart like a glove, but i'm afraid it's not from above
and it's only in our minds. but the way that we bind, he's just so kind, a love like this takes years to find;
he's mine. i'm never gonna whine. he's wrapped around my finger like twine. only if our love was a design..
it'd be a grand mural. love like this needs a refferal. you'd only find this kind of love far away; rural. his love can cure all.
i need him in my life. maybe one day i can even be his wife, despite our familys' strife. he's got me throwing away all my knives.
no, with him i don't need them anymore. our love is far from a bore. we're filled with it like a pore. it's like an unopen door,
filled with surprise. in his love, i wanna baptise. everybody says this is unwise. his love is like a prize
for all these years of pain. i'm attached to him; chained. what do i lose from this, what do i gain? he wipes my tears when they fall like rain.
he's my medicine and i wanna OD. this love won't be a cup of tea. our mothers have me thinkin oh gee. his warm hands fit in mine perfectly.
baby, i want to be yours forever. he thinks he's just so clever. please don't go away, ever. i'm so happy when we're together.
i love YOU, and no one else; that's true. i think i've got a clue. it didn't take him long to woo.
testing, testing. one two three. promise that you'll never leave me? i'll be filled with joy; glee. my love for him is like a sea.
i know it's been a few short days, but i hope our love never frays. when he smiles, it's like sunrays. we're both trying to change our wrong ways.
i'm broken when he says goodbye. neither of us were ever shy. why us, why now...just why? he gives me a natural high.
i'm so glad i'm the one he's picked; i'm allergic to bulls*** but he doesn't have me sick. better keep your eyes off my man, trick:p he's always pullin another antic.
he never puts me in dismay. let's stay together forever; ok? at the start, we were only sayin hey. but now it's more and more everyday.
if he leaves me, i'd be broken. i keep his heart on my sleeve like a token. i hope he understands these words even though it's not spoken. when he became mine, i awoken.

out of love...
now that you're gone, i'm dying. but that little line, i doubt you'll be buying. i'm left here in the dark, sighing. i never figured we'd be goodbying.
now we'll speak in friendly tones... but my heart feels like some broken bones. forever in the friend zone...while i'm stuck all alone.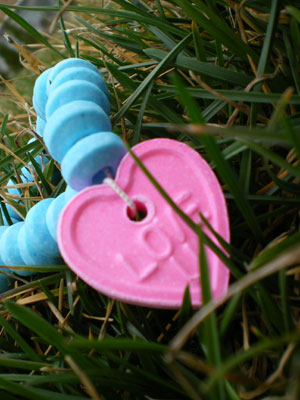 © Jennae P., Kennewick, WA