The Path
October 12, 2012
The path is light,
The road is clear.
Although the end is all but near
A golden hope is in the air,
and while we're here
time falls slowly.

The path narrows,
The sun shines bright.
Can't help but try with all my might
To chase my dreams and cling on tight
To the magnificent fate
beaming down through every tree.

The path swivels
and turns by day
I somehow wander off astray
I'll have to find another way
a separate trail that I will blaze
the soul's dream is to be free.

The path is wild,
Ferns overgrow
Freedom turns from fear to woe
I long to walk the path I know
I spot it wandering back alone;
it isn't how it used to be.

The path drifts up
and so inclines.
The rough slope hardens as it winds
deranging my long-withered mind
that's slowly losing track of time
and inside screaming desperately.

The path is dark,
the sun is down.
The only audible sound
is spiders rustling the ground,
my dreams—an impossibility
what lies ahead, I cannot see.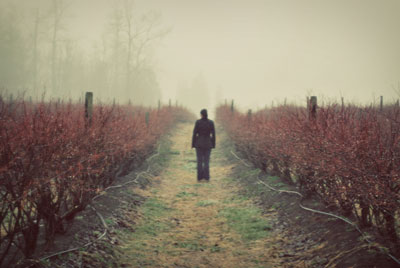 © Molly H., Lynden, WA