The Unrecognized Season
October 12, 2012
Driving up the mountain,
into the woods, the sun,
is just above the horizon,
peeking through the trees.
The grass is glistening from
the morning dew. The trees
and leaves change colors, from
red to orange. Long rocky trails
fill with leaves.

We reach our destination up a
hill, with the sound of water
rushing down a cliff. The
Woods are peaceful like having
a massage. All of the noises
around me relax my mind.
Enjoying this time with friends
couldn't get any better.

Slowly people arrive and it's
time to begin shooting, I'm up.
I can feel my heart racing, with the
smooth, cool gun pressed up against
my chest. I look behind me to see
everybody wearing green camouflage.
I get to the spot, I pull up the gun.
it gets quiet for a quick second, than
it ends with a big bang. I feel a rush of
accomplishment go through my
system, followed by a big smile.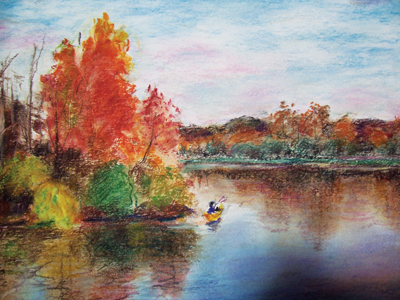 © Xiao H., Naperville, IL