Falling Flying
October 8, 2012
In a different place,
Thousands of miles
Between me and home
I woke up
To the sound of the Pacific.
Literally jumped out of bed,
Full of anticipation.
I ran out of the room and down the stairs,
Everyone else shuffling behind,
Ready to get on the bus
And leave
For the best day of my life.
I threw on the harness and the helmet
And eagerly clipped myself to the first line.
Fifteen feet down through the forest.
The second one went just as easily.
But then
There were stairs
And a platform
And a line
That disappeared from view
Halfway down.
Three hundred and fifty feet.
My heart dropped.
Not what I was planning.
I felt cold
I felt hot
I felt scared.
I looked at the faces behind me,
Smiling,
Nodding,
Waiting their turn,
Waving me on.
Somehow
I still felt scared.
Terrified.
That was when I realized.
I couldn't go back.
Fear
Couldn't keep me on that platform.
And if I jumped,
I wouldn't fall.
I would fly.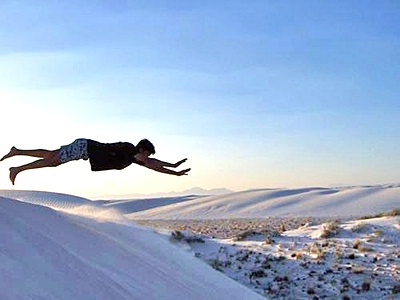 © John W., Evergreen, CO