Flowers
October 9, 2012
This house I have been in so many times. All the memories flooding through my mind,
Christmas presents and homemade Christmas cookies, award winning hot chocolate, laughter and hugs and kisses and talking about our life.
But this time there is no laughter and only sorrow.
Big crocodile tears and silent sobs fill the dark room.
With tears silently falling down my face I look around the room such a small space and so many people all at once, wearing nothing but black clothing.
.
Flowers in every corner of the kitchen, her favorite white daisies and beautiful red roses. Guests say they're "sorry for the loss" and "she was so kind "…only good things about her and how she will be missed.
There in the middle of the room she laid so peacefully. Skin as white as snow, her outfit a beautiful red jacket and black pants her favorite long jewelry hanging from her frail ears.
A little boy not even 6 years with dirty blond curly hair stares at the women, his grandma, not fully comprehending what has just happened and why.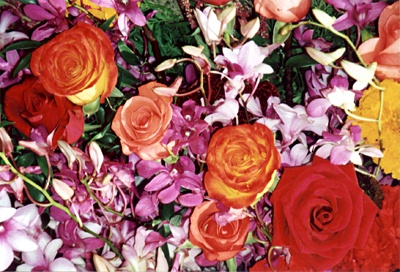 © Stacy L.,New City, NY