Hunting
October 9, 2012
I watch through the dark woods as the tan fur of the white-tailed deer emerges from behind the oak tree.
Shaking heavily,
I take aim down the neon green sight,
place the bright pin on the target,
and wait for the right moment.

Slowing my breath to steady my nerves,
I set my finger on the metal spring loaded trigger,
Feeling the cold steel against my warm skin.

Watching as the deer lowers its pointed head to bite into the small red apple,
I pull the light trigger to hear the quick sound of the darting arrow cut through the cold morning air.

With great power and speed the deer jumps in sudden fear,
sprints off into the depths of the forest,
and hides in the tall marsh weeds.

It was a perfect shot through the lungs ensuring a painless humane kill,
Feelings as if I was like a Native American.

Sneaking through the woods,
Stalking prey,
And providing the same essential food for my family as they did for their tribe.
Feeling pride through which I have linked myself to American history.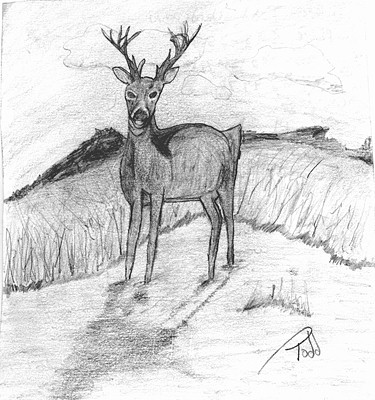 © Todd V., Neoga, IL