His Shiny Silver Friend
October 9, 2012
Collapsing on the ground,
my lungs aching and burning.
Pushing myself up I flee
bolting into the house,
locking all doors,
shoving all furniture
to any entrance.

Frantically,
grabbing my phone
He gets here first.
His friend the axe starts chopping
at the wooden door,
so I can see
those terrible eyes.

I scurry to the shack
lock the door,
and attempt to call again.
But he finds me and
grabs me roughly,
with his tarantula like hands,
his big evil axe
winking in the moonlight.
Before I can mutter a scream,
He's shoving a sack over my head.

Yanking me up
and carrying me
like one big 19 year old baby.
His steel rod arms restrain me
and keep me still.
When we get there he drops me
on the grassy ground.

Feeling the pain spread
from my tail bone up my back.
Whipping the sack off my head quickly
making my skin sting.
I try to creep away slowly but
I meet his whistling friend
before my right palm
meets the warm dew grass.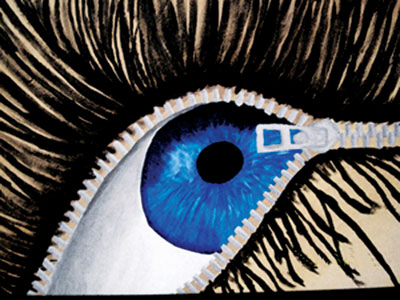 © Brad S., Lecompton, KS