My pearl necklace
October 9, 2012
My pearl necklace
Even after many years
I still wear my peal necklace.
The gold chain
leading to the open gold ball
With only a few gold bars holding the pearl in place,
The peal
is presented in such an elegant way.

Even after many years I can still remember the day
The diver dove for my pearl.
She jumped from above
Into the huge blue tank surround by
Large stone pillar holding the tank
Full of water and plant life,
Along with some wooden pirate chests
And rocks that lay partially buried
In the bleached white sand,
But most importantly
The shriveled up oysters that lay gently at the bottom,
Holding their shiny prized possessions.

After growing out of everything
From my earlier years,
My pearl has been through almost every memory
I've experienced since I've received it.

Even After so many years the elegant necklace
Just means so much
Because its one of the very few things from my childhood
That I didn't loose
And I believe the necklace,
Brings me good luck.

Even after so many years
You would never be able to tell how old
My peal necklace is.
The gold is just as gold,
And the pearl is just as shiny
As it was the first time I ever wore it.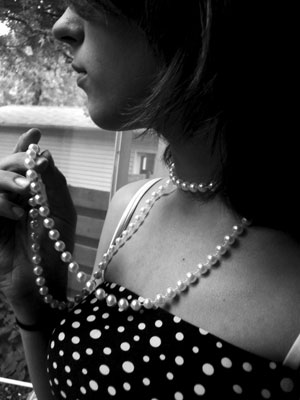 © Elaina V., Canton, OH