Beautiful Heart, Priceless Soul
October 6, 2012
Gold strands of hair
Tumble down her shoulders
Deep, dark, blue pools of light
Serve as her enchanting eyes.
So beautiful she blinds
As she emits her illuminating light.

So strong inside
Ready to fight
She has her hand on the hilt
Ready to pull out her dagger
She been through so much
But yet she's standing here, so tough.

She smiles on the outside
To show she's okay
But she's really crying on the inside
Feels like she's filled with hate.
She fights to find her way
Unable to see her enchanting rays.

She avoids the mirror's reflection
Directs her vision in the opposite direction
Hates the person she sees
Wishes she could be what she can't see
So she looks away and doesn't dare pity
When she can't see how blessed she is, with being so pretty.

She doesn't truly see her full potential
Tells herself that she's not reaching the essentials
She questions herself and her decisions
Acting upon, using careful precision
Makes sure she's heading in the correct direction
But thats what makes her carved out of perfection

Beautiful heart, priceless soul.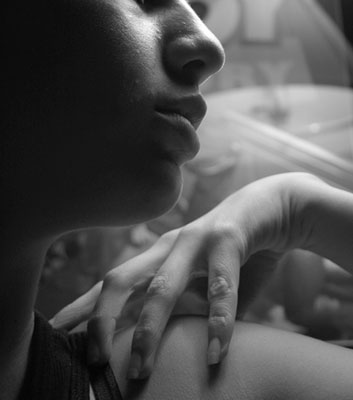 © Rebecca B., Santa Clara, CA