Mamma's Meatballs
October 7, 2012
When I was a boy
Mama always made spaghetti.
The plate would be piled high,
And no one dared not to lick it clean.

Andiamo, magniare, magiare!
She yelled to all of it's victims.
I was a quiet boy
Who did not like spaghetti.

No cioccolato senza la tua cena caro.
Sweets were my indulgent,
I could never get enough candy
For all of the work I would do.

So I sat and ate the spaghetti.
One forkfull after another.
The slimy noodles wriggled
And gently slid down my throat.

E la tua polpette?
She asked after every slurp.
Eyeballing the meatballs
Sitting in a small pile on the plate.

The meatballs sat angrily.
I hated those balls.
The crust too crunchy
And the meat too dry.

No polpette, no dolci.
She affirmed and turned with a smile.
I sat pouting at my plate,
Hoping for a miracle.

Affrettatevi là fuori!
I struggled for an option.
I could stuff them in my pants,
But who said they'd stay there?

Suddenly a big black bird
Came swooping down above my plate.
He stole all of my meatballs
And flew clear away into the sky.

Mamma, sto finito!
I grinned with pride
As I carried the heavy plate
Into our kitchen.

Now years later
I'm grown up and moved out.
I still don't like her meatballs,
And she still always yells
Andiamo, magniare, magiare!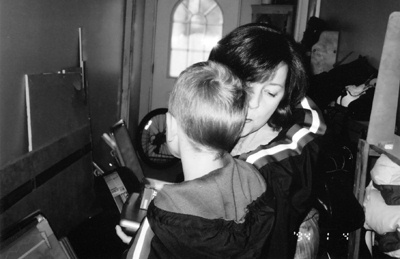 © Lindsey S. Pequannock, NJ