His Kingdom of Dirt
October 7, 2012
There once lived a man, born to a family of three
one sunny day beneath the skies of Italy.
Forged by the social hammer and some time apart,
he soon developed his very own heart!
Twas a fragile thing, he soon did learn,
there was something about it that always did yearn.
Its longing was kept in check, however--
as he took it with him through his schooling,
reading, arithmetic, and things he found plain
taught him to listen instead to his brain.

His brain served him well, and worked better than most
it brought him high grades, and led him to boast.
As others grappled and awed at new facets of life,
his brain kept him on the path of least strife.
He wrote well, and published ahead of his time;
on the life of the mind he spent his very last dime.
In his kingdom of success, he was a magnanimous king!
expanding his empire with a golden ring.

But, though his wit was admired by teachers and peers,
he found that it could never chaperone his many tears.

His mother and father sent him to a University.
He was a wise young man, prepared for college
yet, compared to his peers, he somehow felt lacking in knowledge.
Despite all he had done, he lived wearily,
as those less-achieved lived so merrily!
There was something important he had ignored--
Despite the might of his brain, his heart has never been conquered!
He knew many facts. He studied on scholarships,
yet his heart sought love and meaningful friendships.

He looked back at his life, to his family of three,
feeling so suddenly alone beneath the familiar skies of Italy.
And, as he quieted his brain, it began to start:
the deep-veined pounding and screaming of his heart.
It had been yearning and weeping, so long it had hurt,
blood-shod, naive, cursing his kingdom of dirt,
and the pounding picked up to a maddening pace--
and he looked in a mirror, only to see a suffocating face--
and he feared that, in the far future,
as his coffin would sink swiftly into the mist,
It would be as though he never did exist.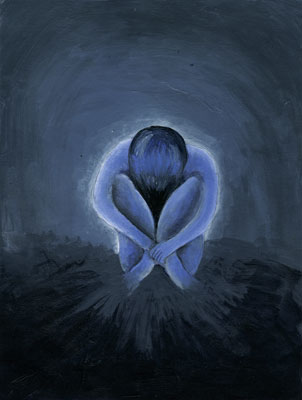 © Becky F., Sacramento, CA