Bare Feet
October 6, 2012
I creep out of my red wooden front door, and I am immediately blinded by harsh light.
According to the sun, it's nearly eight A.M; early yet.
Perfect.
The bottoms of my feet are tickled by the faded straw Welcome mat my mother insists on keeping.
I push down, letting the prickly straw leave indents in my soft heels.
And then I walk on.
The cement front steps are cool. The sun hasn't had the chance to warm them yet.
I feel each concreted pebble against each of my toes.
It feels good.
I swerve off the cement and onto the dewy grass (if it could be called such - it's dead and yellow now).
The muscles in my feet tighten against the coldness and it makes me smile.
I bite my lip.
With each step I hear a squish, but
I feel it more.
Mud fills the spaces between my toes while the dead grass tickles them.
I walk into the road; wet footprints track my progress until the bottoms of my feet dry off.
I can tell that the sun hasn't been as kind to the asphalt as it has the cement;
Or maybe the contrasting temperatures of the dew and the pavement make me believe that
It's hot.
But I keep going.
Every step is a new adventure with new rocks, new pebbles, new indents.
With one forward step, my right foot feels something peculiar.
I look down to see a long pink worm - I'd say four inches.
So I bend down and pick it up between my thumb and index finger.
I place it in my palm, and with each step I bring it closer to the dewy grass.
It would die out on this harsh pavement.
Once my feet feel the familiar cool ground, I drop the worm onto the lawn.
I saved it.
I press my feet into the soft muddy ground and hear a squish.
I smile.
And I wonder -
What people miss when they wear shoes.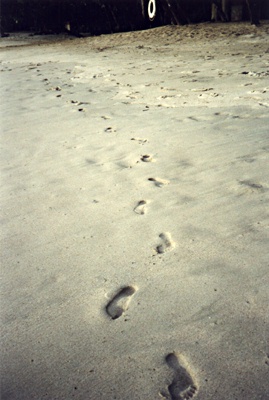 © April W., Rogersville, MO