One. Thought. At. A. Time.
October 5, 2012
B****.
Empty the pill bottle into my hand,

Liar.
Press the blade to my wrist.

Worthless.
Empty my lungs under the water.

Ugly.
Step off the curb into traffic.

Stupid.
Take my hands off the wheel.

Fake.
Tighten the noose around my neck.

Loner.
Put the gun against my head.

Sweet.
Pour the pills down the drain.

Honest.
Put the knife back in the kitchen.

Valuable.
Take a deep breath of fresh air.

Beautiful.
Place both feet firmly on the sidewalk.

Perfect.
Untie the rope that's around my throat.

Loved.
Empty the barrel and get rid of the bullets.

Taryn.
I promised her I'd always be there for her.

Aj.
I have to make sure he never drinks again.
Merissa.
Without me her dad is the only person she truly loves.

Rory.
After every fight I still know he has my back.

Bridget.
I saved her life and now I need to save mine.

Selfish.
How could I even think of leaving them alone?

Shock.
What the hell was I thinking?

Realization.
This crazy life is kinda really beautiful.

Relief.
I'm glad I'm not missing out on one moment of it.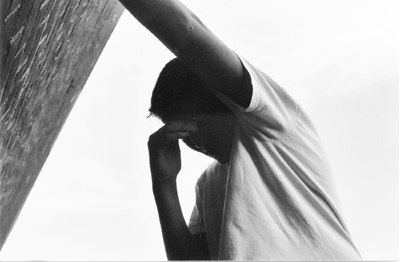 © Dillon O., Pompton Plains, NJ