The Mask and the Mirror
October 3, 2012
The mirror unveils her true weakness.
She looks and sees her frizzy hair and pimples,
her ghostly skin,
chubby cheeks,
and dark circles.
She feels like Jack's beanstalk
that grows forever and ever, up into the clouds.
Yet, unlike most tall people
she is forced to suck her stomach in
and cover her thunder thighs.
Her eyes are the ocean.
They are a deep blue
and hold and release just as much salt water too.
She hides behind a smile,
a laugh,
and too much make up.
But alone, she cries it off
and weeps
and worries.
She is a nerd at heart.
She tries to keep her straight A's locked away in a binder.
Instead, she twirls her hair,
and giggles,
dumb blonde style, of course.
She reaches out to popularity but is always smacked on the hand,
and forced to retreat.
She is full of jealousy and longs for it from others.
She struggles to keep her mind
and heart set on God,
but the world tempts her and forces her to think about other people,
other problems.
She isn't a soaring cheerleader,
with cute uniforms and perfect everything.
She plays basketball;
hot, sweaty, ugly basketball.
When she witnesses the bullies,
she stands up to them,
and helps the weak and weird,
she knows how they feel.
And when she does,
people actually listen.
But then she returns to her weird,
awkward self again.
Maybe that's all she'll ever be.
But she steps away from the mirror and pretends that she never saw any of her flaws,
strengths,
strangeness,
struggles,
smartness.
She puts back on the mask
of a happy teenage girl.
And walks away from the mirror,
shaking her head once more.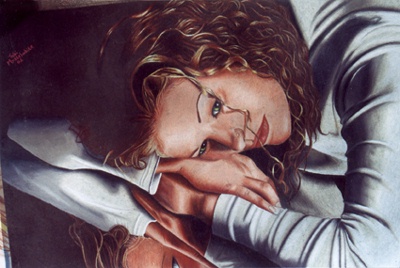 © Tabitha M., Kannapolis, NC