Ode to Algebra
MAG
October 2, 2012
Oh Algebra, how annoyed you make me
By making me solve the formula y = mx + b.
You have all the problems, but know all the answers
The work keeps growing like pesky cancers.

I don't want to write thirty algebraic expressions
It is enough to send one into depressions.
The long and complicated equations
Make my head as shriveled up as raisins.

The worst part, and by far the most scary,
Is the confusing and hideously long vocabulary.
In my brain, the words are an annoying heap,
Yet I have heard them so many times, I quote them in my sleep.

The endless amount of rules,
Works me as hard as a pack of mules.
It is so challenging, at times I think it is a hoax,
And if it is, it will certainly be the cruelest of jokes.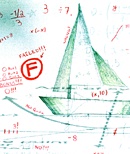 © Steven R., Binghamton, NY