The Cleansing
October 2, 2012
The grey ash fluttered around me,
swirling down,
pirouetting and turning like ballet dancers to a somber song.
It was like the first snow of December,
quiet and calming.
With a hint of nervous excitement,
this happy tragedy rained down.
As if the black clouds above me
wished me to notice their condolences.

The fire in the house still smoldered,
the flames that once burned orange,
angry and irate,
were now calmer, accepting the fate
of the once white house.
Now grey with that dark snow,
which started to crumble and fall.

As the house slowly and wearily
pulled apart from the foundations,
I could see the snakes,
deep emerald green,
each scale shining
like a smooth dagger.
I saw the old demons too.
Black and dull,
they crawled away hastily
but turned back to wave
as if to remind me
of a future meeting.

They scuttled out from their hiding places.
Out from dark basements.
Out from the shadowy closets.
Out from every murky crevice,
as I burned my house to the ground.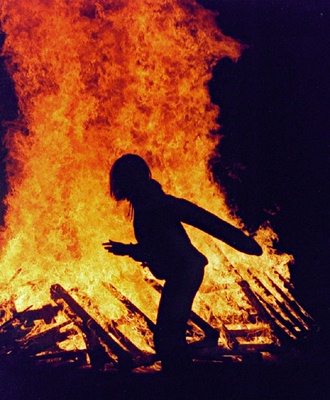 © Hali S., Robinson, IL