the lovely death
October 2, 2012
Walking through the dark forest,
my feet becoming stuck in the dark muck,
the owls hooting warning me something is near,
then I hear it his labored breathing,
hes so close but still so far,
but i still have no clue were he is.

I begin to run from him,
tripping over the fallen tree's,
the rain begins to fall like tears from the heaven's,
and suddenly it becomes hard for me to see,
I can't breath i am starting to fall,
but why is running away so hard?

He is nearby I can here his deep laughter,
and with every single one of my heartbeats he gets closer,
and i sit there for a moment frozen in fear,
then the ground behind me starts to shake,
he is almost here I look back and I am able to catch a glimpse of his face.

I get up ignoring the searing pain in my leg,
I start to run I don't take the chance to look back,
my tears begin to fall in violent tears,
leaving crystal clear streaks down my mud covered face.

I can see the house I am almost home,
I hear the laughter of my family indoors,
I open my mouth to scream their names,
to let them know were I am,
but before a single sound can escape my throat,
he is there with his hands covering my mouth.

And then he leans his head next to mine,
his lips near my ear,
his breath falling down my goose bumped flesh,
he laughs and whispers "better luck next time".

My screams are silenced by his hand,
my tears fall faster as I begin to shake,
and then I see it the shining blade,
the knife that is meant to take my life,
he turns me to face him,
opens his mouth to speak to me.

"Your so beautiful in the pale moonlight",
"Its a damn shame that you cant be mine."
and then he puts his lips to my ears,
and whispers the three words i didn't want to hear.

" I love you" he whispers in a quite voice,
he kisses me down my neck,
tracing the trail of his kisses with the blade of the knife,
but as he leans in to take one finale kiss,
the blade slides over to my neck.

He moves his hand away from my mouth,
"say you love me if you want to live",
I open my mouth to say the words that aren't true,
but instead only my tear stricken sobs escape from me,
"wrong answer babe" he laughs harshly at me,
and as he shoves his lips against mine,
the sharp blade of the knife finally takes my life.

My eyes wide open in pain and in fear,
I see one finale thing before i finally say goodbye to everything i hold so dear,
I see cold tears falling down my killers face,
as he cry's over a life he can not replace.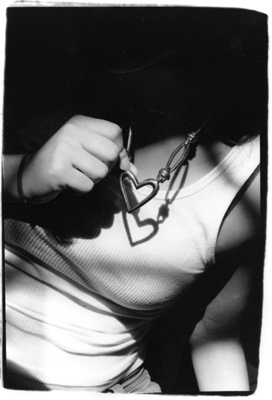 © Julia R., Bethesda, MD