Weekly
September 28, 2012
Every Friday I saddle up,
And make the twenty-minute trip home.
For you. Laura.
The apple of my eye.

I like to think I make the trip to see family
or because I get sick of college,
but the truth is that it's for you.
It's always been for you.

I try my best to make the two days
between Friday and Monday seem like twenty.
But in the end, I'll fail,
and I must start my car and again drive away,
leaving you standing, staring.

I can see your hands clutching that necklace,
in vain hope that just having it
will bring me back more quickly.
It won't.

And as you grow smaller in my rearview,
shoulders slumped,
questioning why you allow this to happen every week,
I repress a tear and press down the accelerator.

You'll say that we've got this,
that it's just another week,
and I try to believe.
I try to believe that I will be okay,
when in fact I ache endlessly for your presence,
for your hand in mine,
for the scent of your hair,
the warm blush of your cheek on mine,
your smooth, soft lips,
for even the sound of your voice.

Sunday night arrives and I slide the key into the lock,
throw down my bags,
and slump into my chair.
Alone.

I go through the week in a daze.
Sleep, eat, class, homework,
and a shower when I find the time.
Over and over again.
Until Friday afternoon,
when I climb into the car,
a smile on my face,
only because I know it won't be long until I see yours.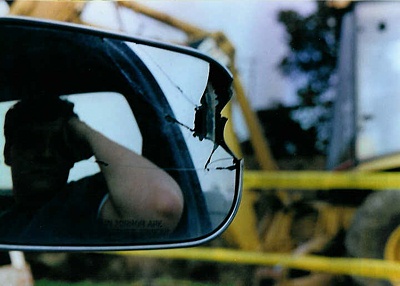 © Matt M., Ponca City, OK