two girls
September 26, 2012
there are two girls who always come early to English
because it is right next to where they eat lunch.
and it is always them, and the teacher waiting
for everyone else, and while they wait, they speak:
look, my knee.
ouch. when?
yesterday. walking home.
stupid. remember that next time.
i know. sorry.
s'fine. how's boy?
not now.
why not?
no.
sorry. okay?
mad.
stop. don't need him.
okay, sure.
and then the bell rings and their classmates pour
into the room in a flood of noise and squeaky (linoleum and shoes kissing),
They pour and flood into the room and silence our girls
like victims
in a flood.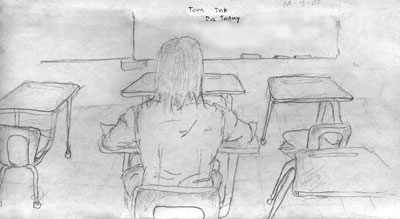 © Christopher M., Dededo, GU