to my father.
September 25, 2012
my dad stood noble, majestic
a king in a royal forest.

his roots, buried deep
twisted through the unrelenting soil
like feet planted solely to drain the
Earth of its pain, suffering, and
weakness.

his trunk, perfect for loving arms,
towered over the rest so that the forest was forced to look up at him,
putting sparkling skyscrapers to
shame.

his branches, stretched for constellations,
and when the stars lay out of reach
he supported his branches like children,
resting the weight of their disappointment on the cracked, weathered fibers of his bark without
complaints.

his leaves, regal and healthy,
provided a canopy of comfort and refuge for creatures homesick and broken,
looking for a place to avoid the rain or admire the moon
light.

the cancer returned aggressive, vengeful,
an intruder in my father's castle.

his roots, too weary to relieve the Earth of its sorrows, take on their own.
his trunk, once enveloped by appreciative arms, are now cradled by uneasy limbs.
his branches, closer to the stars than ever before, put their hopes on hold to reserve enough energy to pray.

and his leaves began to

fall.

and his hair began to

fall.

and there the king stood, pale and naked,
ashamed of his weakness.

and without the slightest whisper of a complaint,
the homesick broken creatures that used to frolic beneath his luminescent leaves in the moonlight,
fought to protect their king's castle.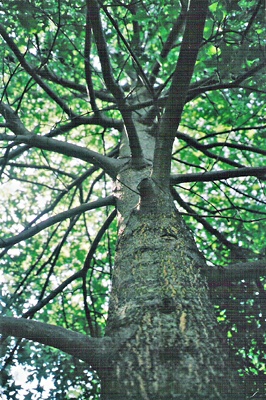 © Bhuvaneswari R., Sleepy Hollow, NY