Sensitive One?
September 25, 2012
By nature I'm called to be a sensitive one
allowed to cry when I'm worn
every now and then I stop and I let out a breath and I exhale
Though sensitivity is me by nature,
I swallow my spit and the mucus that's
sitting in the back of my throat
and I tell myself to cry,
but I wonder, whether I'm crying, because I'm the sentive one
or am I crying because of the bad taste in my mouth
crying composes of alot of notes that are quite difficult,
sometimes I wonder if the creator of '' My Tears'' was composed by Beethoven,
and other times I wonder if it's a poem written by Maya Angelou,
Can I be helped by Oprah? Or should I be sitting in a room full of doctors
Or should I be defended by lawyers?
Should the sensitive one be sitting behind the prisoners gates, seperating her and the globe of hate?
Sitting in a field alone
all on her own
sitting on a rock throne
talkin' to birds, trees, and an imaginary friend named Joan,
but where does she go when she has to use the bathroom?
Definately not behind the tree, run to the closest convient store
ask the clerk for the key
Unlock the two locks and I try to stop her stomach from yelling
(Yes, she is me.)
I slam my gluteus on the toilet seat
not even wondering what germs
there could be
I sit thinking for awhile
, and I looked up at the mirror in front of me
and I got a Revelation.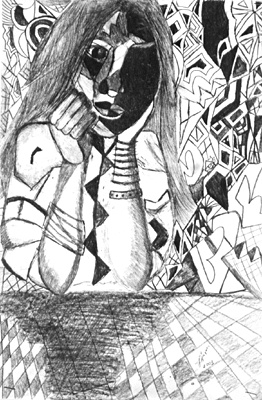 © Joy H., Kannapolis, NC