For What It's Worth
September 25, 2012
My Personal Finance teacher cannot sleep if she makes a risky investment.

Adults complain that we think
we know it all
but what do you call
picking your career before your first job?

We are meant to discover ourselves,
but not "values, passions, joy" ourselves;
"where will you be in 20 years" ourselves.
Meant to discover our paycheck
and buy happiness off the shelves.

They don't want us to be unhappy,
but they can't teach happy,
so they have to teach wealthy.
It's not that they don't care,
they want us financially healthy.

I wonder how much change
you have to save,
before you get nickel poisoning?

Do they call them "values,"
because, like everything else,
they have a price?

How much has to be on the line
for you to give up your hopes
to cope with a dent in the rainy day fund.

What is the risk
on the twenty you gave to a homeless woman?
And what are the taxes on those returns?

What is the opportunity cost
of a life spent hunting for work in your passion,
not cashing checks from a job that keeps your credit score from crashing?

What will it take to turn the economy around;
do some calculations on what would happen if the nation
raised dreams up
and let their wallets down.
And just how does it affect my net worth
when I know I could put my money on a 50-50 bet
and never be too upset to dream.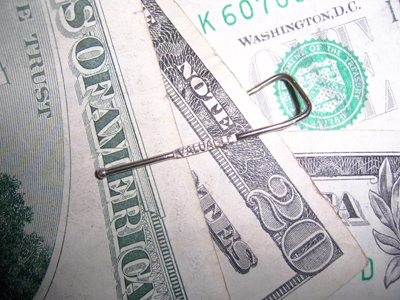 © Valcy E., Stony Point, NY