Whispers of a Sandy Soul
September 23, 2012
I come from a heaven
of warm, white sand
that laps the edges
of a hidden porch
and drifts onto the roof
of a grayed bamboo hut.

I look out
into the world of the sea,
a world I have come to know
more than my own.

It isn't the ocean's grainy sweat
that permeates
a calm, cool breeze.
Not the slithering,
slimy seaweed,
jellyfish-dangling
at the water's edge.
I love those things,
but they aren't
why I stay here,
alone and withered,
silently rocking
to the music of the waves.

I'm imprisoned,
Pinned between fang-like crags
My feet reduced to sand.
I'm handcuffed to
silence,
whispering to coconuts
through dry, useless lips,
redness rising to my cheeks,
but never from sunburn.

The empty quiet drags on.
I wait frantically, nibbling my nails,
wait for my world to collapse on me.
'Cause all it takes is a human peep,
and, before I realize, it crashes down
halting time, burning my ears
and leaving me breathless.

This silence that plagues me gets
louder
and
louder.

My forehead,
Salty like the ocean.

Louder
And
Louder.

My cheeks,
Warm like the sand.

Louder
And
Louder.

My toes,
Squirmy like hermit crabs.

Louder
and
louder.

I claw at the chains,
Tear them off my ankles.

I wet my lips
With the froth
Of the ocean.

And I open my mouth,
and I talk.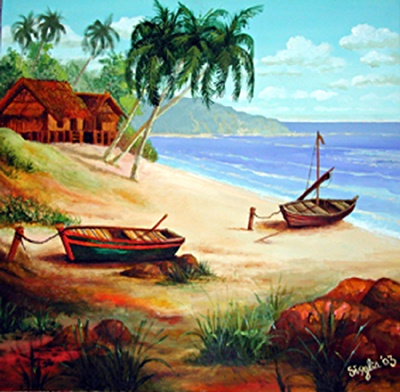 © Sisylia O., Surabaya, Indonesia