She's ready to go
September 25, 2012
She begs to leave,
but she has to stay,
stay cause she can't change.
She can't take the pain,
it hurts her too bad,
but she's used to the bad.

She hides out,
far away from help,
she wants to be alone.
She doesn't want them to know,
they'll treat her different
and she's not used to different.

She hates herself,
her hate is so strong.
She never looks in the mirror,
she knows it'll only make it worse.
She's ugly.
She's fat.
She's stupid and annoying.
No one really wants her around,
but she's used to being unwanted.

She hurts herself,
she knows she deserves it.
She watches life,
watches it so numb,
she waits,
for her personal time bomb,
ready to go off,
but it doesn't.
and she's used to the wait.

She gets worse everyday,
she's so ready to go.
She's not really alive,
just an empty being,
lost and scared,
and she's tired
of being used to that.

She tries to leave,
but it's not her time.
God makes sure she stays.
He knew it'd get better for her.
He shown his light and love,
gave her a reason to stay,
and she gets better everyday.
She's living now,
and she's so glad,
glad to be used to that.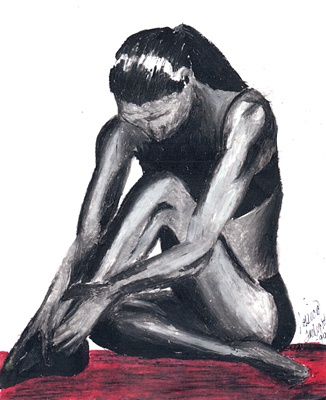 © Jessie Y., Ahwahnee, CA