Red..
September 24, 2012
As I walk up to her freshly painted white porch the pride of the red rose in my hand shows on my face.

My knock on the door is like the beat to a soft love song which creates red blotches on my knuckles that slowly fade away.

She answers the door with a surprised smile and rosy red cheeks that brighten the color of her light brown eyes.

I can almost picture the red blood flowing to her heart as I make her feel like a queen with just my simple red rose.

On this icy cold winter morning the sun is red and gleaming like a light.

The colors of love do not fade away in a snow covered season but they show even brighter like the glistening of a newly placed red Christmas light that shines brighter than the rest.

Like the taste of a squishy red strawberry love is gentle and sweet on the tongue.

Love can burn like a wildfire and just keep burning if not contained.

Not even the red contraption we call a fire extinguisher could put out a love fire.

But the problem with fires is if not contained dangerous grounds are crossed. Death can come upon the slow to action. And that same blood that pumped to a beating heart can't find a home in a heart that has been broken by a love that wasn't taken care of.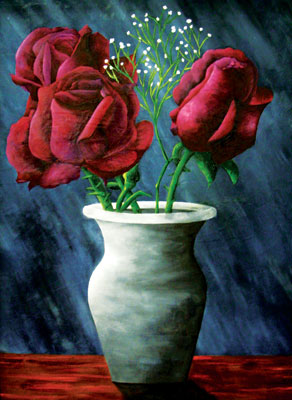 © Brandon S., LaFollette, TN