Nailed Wings
September 19, 2012
Stuffed animals fight for the right on the bed,
Some on the floor,
Some barely hanging on.
A soft pink bed spread,
Comforts the animals,
While they wait eagerly for the return of the little girl.
Glittery fairy wings from the past Halloween,
Are nailed onto the wall.
A bright pink tutu lays abandoned on the floor.

Time passes
Girl changes
Room morphs

Black rags engulf the floor
Powerman 500 posters cover the walls
A steady stream of screams come from the stereo
Falsely dubbing itself as music.
A bottle of hot pink hair dye
Drips onto the carpet from a shelf.
Laying on the bed watching,
Is that cute pink bunny,
While the red mixes into the black clothes,
As a parting gift from the glittery fairy.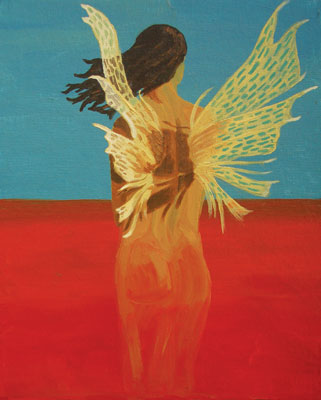 © Allison F., Langhorne, PA