Duct Tape
September 19, 2012
He asked about my heart and what was wrong
And I told him in a short and rhyming song,
"My heart is with my soul
Deep in some black hole.
My soul is torn apart
And laying with my broken heart."
"Duct tape!" he exclaimed.
"What?" I asked in shock.
"Duct tape." He repeated.
"We'll hold your heart together
With duct tape as it heals.
I'll provide caffeine
And a shoulder to cry on
Should you need.
It's my foolproof routine."

"Can duct tape fix my heart?"
I asked. He explained,
" No, but it will keep it from falling apart
And while time helps it to heal it'll hold it together.
Time heals most things though it may seem to take forever."
So he handed me a roll
And said he'd try to keep me whole.

We put duct tape on my heart-
Piecing it together part by part.
Now I can feel
My heart begin to heal.
Thank you my friend
Your support and your duct tape
kept me from a most untimely end.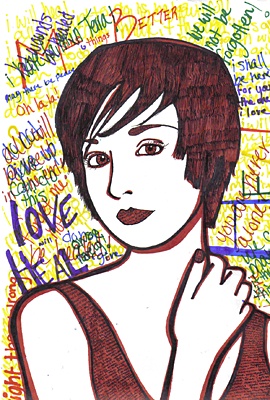 © Sara D., Aiken, SC