Where Am I?
September 18, 2012
I feel like I've seen this place already
Maybe in a dream
Or once in another city

I know I've been here before
I've seen these walls
I've walked these floors

Everything is so familiar
But it's all so unreal
What is it that's so peculiar

I just can't shake this feeling
Something isn't right
Look it over floor to ceiling

Where am I ?
Really truly
Where am I ?

Slowly walking these halls
The notes of your song
Silently echoing off the walls

Reaching deep inside my mind
Searching desperately
But there is nothing there to find

Finally I stop at that door
My hand on the knob
Inside my head a raging war

Looking in to this empty room
Do I dare step in ?
Into a shadow of distant gloom

I've drowned out your memories
I'm completely unaware
This is right where we used to be

There's a faint little spark
Nothing truly clicks
Within my hollowed heart

I slowly turn to leave this place
I fall to my knees
Tears streaming down my face

There you are waiting for me
Where am I ?
Right where I'm supposed to be.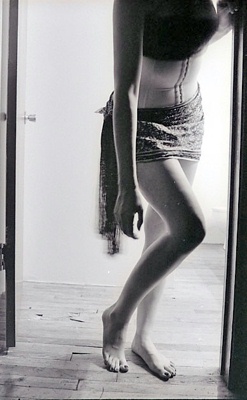 © Alexandra K., Chicago, IL