No More Worries
September 18, 2012
She doesn't want to listen to anyone.
Too frustrating, too annoying.
Too stressful and overwhelming.
On her heel, she turns around,
Away from them, the crowd
Of one thousand and two eyes.

Each roll of her feet –
Heel first, toes last –
Causes an earthquake to erupt within her.
Uncontrollable tremors shoot through her body,
Hands and face especially trembling.
From her feet to her head,
It is a drum
Pounding hard and loud
With each little step.

Vision red,
Eyes burning,
Cheeks hot.
She isn't looking,
Isn't hearing,
And she is barely breathing straight.
Huffing and puffing and pounding.

The voices insider her head are screaming,
Saying what they always say:
Useless, stupid.
Think this, do that.
No no no –
Wrong, wrong, wrong.

And when the ground beneath her becomes black,
No longer blanch white, safe grey,
She doesn't notice.
Everyone and everything inside of her
Is simply too loud,
Is simply too overwhelming.

She doesn't see the green
Turn to red
Or hear the cries of others


Reaching out to her.

Though, maybe she does hear them.
She may be just pretending,
Imagining she is deaf.
But maybe it is the water in her eyes
Or the drums and screams in her ears.
Whatever it is,
We will probably never know.

It is the sound of a trumpet,
Thunderous and pulse-stopping,
That wakes her from her world.
She turns,
Only to see blinding white lights
And that second flash of silver.

Like an eagle, she flies.
Like a ragdoll, she lands.
Graceful and messy,
Beautiful and horrid –
Is it possible for something so terrible
To be so relieving?

Like a gentle river,
Red trickles onto black.
The drums, the voices –
They all trickle out of her mind
And down the red stream,
Away from her, finally.

There is this wave of relief,
This lack of stress.
No more pounding;
No more yelling –
No more anything.
Only soft murmurs,
But they are fading,
Fading so unbelievably fast.

It is heaven
No more stress.
No more worries.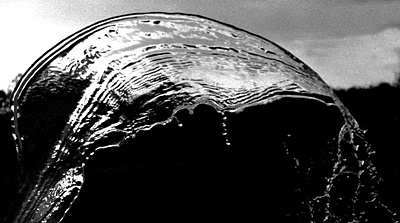 © Kellie S., New London, NH