All we needeth is each other
September 18, 2012
I dream
and as I dream I see him
a young man of only 15
tall and brown haired
with glistening eyes of green
he stands there in the middle of the woods
hair swaying in the breeze
falling as though it is perfectly normal
He looks up to the sky and sighs
then he sings
a voice so golden and sweet
like the sun itself
I see him open his arms wide
and circle gently, so gently
barley even making the leaves stir
the wind blows harder
the trees flowing against it.
The sun begins to set
I look and see him once more
standing thus were he hast before
only now he is glowing
Shining thest like a new born star.
And as the sun goes down for the last time
he turns towardeth me
I see him glide
to my side
and take me in his arms
he kisses me so sweet and dear
and shows me I have not to fear
he leads me toward the dying sun
and as we walk I feel the safety
and comfort that I'm his.
We disappear into the last dimmining of the sun.
the peace hast cometh to us
for we are alone together in this world
and all we needeth is each other.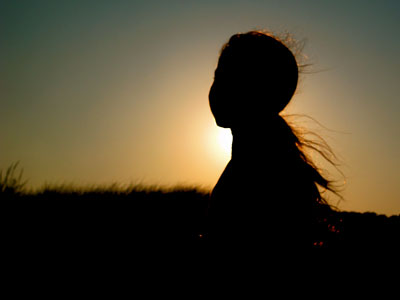 © Barrie T., Scarsdale, NY