Some News About Calyx
September 18, 2012
Today's a beautiful day--
the sky blue as glacial melt,
sun flaxen like golden grass,
bare branches rustling as the spry wind
whispers love stories.

In the house it smells of pumpkin bread
and glows with the light
of the flitting fire
that paints scenes of smiles
on stark surfaces:
Possibility
walks casually among old friends,
once lost, now returned for good.

The kitchen:
I'm swallowed in dark and cold,
Mother stands alone, her hands
lost, her cheeks
stained with fear--
two words, spoken light as rain
fall like one piercing hailstone--
"She's gone."

The door gives too easy at my touch,
the snow is hot coal
beneath my feet, frosty air is spears
puncturing my lungs,
and my throat
tangles like kite string
caught in a rose bush.

Oh, I run till ice
is cold again and rivers
only rime
again and my concrete heart
sinks back down into my chest
and slips away through the hole
two words have ripped in me.

Empty, heavy steps
carry me
through a neighborhood
encased in night's shroud,
the snow dirtied with sin:
every path
leads straight to the house
in which a life-creator
became a life-destroyer.

Twilight on her street
we would notice flimsy sheets
clinging to a shivering clothesline:
it took a mere gust
to rip them from their world of color
and send them
wavering
into dismal grey.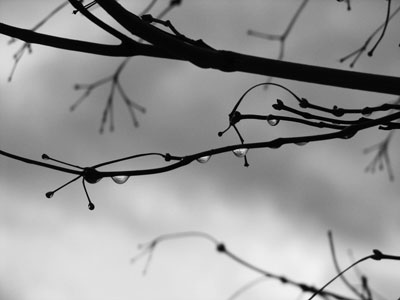 © Carly M., Hopedale, MA