The Gardener
September 18, 2012
His eyes roll back,
lurking in a silent,
vacant tomb.
Clouds of thought
weeping on his heated head,
steaming, searing
his mind.

This rain
seeps through his skull,
dripping on his swollen tongue.
Grouped in puddles of
foreign words,
longing to pass his iron lips.
Only to be swallowed,
creeping slowly down
his throat.

Nearing his stomach,
the drops of emotion
are more than ready to
dissolve.
To forever be
forgotten...

But,
before dropping
into his pit of self-denial,
they soar
through his esophagus,
making a sharp turn
into the dusty, cracked
desert land that is
his heart.
Every liquid thought
quenching the thirst of years
of hopeless,
truth less
drought.

The once dry, barren earth
that took the place of his young,
fruitful heart
now bursts with aromatic blooms
of wide spread foliage and
flower-bearing vines,
weaving their way
through every chamber.

One peculiar plant
sprouts from the center of
his garden,
gathering the hues of all around it.
This flower,
stands high above his soul,
stretching through his throat,
barely reaching the back
of his now loosened lips.
Its petals reach out
to softly open what
separates itself
from whatever awaits the thoughts
it's gathered from his heart.

His tongue is now
a pallet,
for the flower to ooze
it's multi-colored secrets.
His mouth an exit
to voice these captive fears
into long-awaited
truths,
letting his enlightened heart
envelope his mind
and set him free
from himself.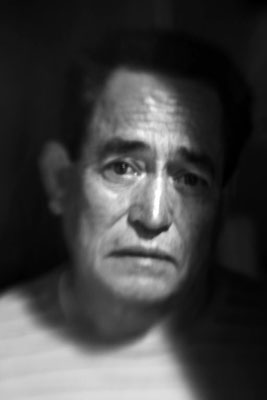 © Adam P., Goleta, CA