A Sea of Fallen Stars
September 18, 2012
The water, clear as glass, sits still in the moonlight.
The waves shimmer and glisten as they slowly roll towards shore.
The soft wind blows its gentle breeze through the trees that line the beach like soldiers waiting for war.
The stars above flicker like candles in the night, lighting up the sky in a chorus of shapes and colors.
The moon shines down from above slowly bathing the world in a gently white glow
The soft white sand radiant in moonlight glows faintly as the waves charge in and tip toe back out.
It's quite, cool, and beautiful.
The horizon holds mystery and uncertainty, and the endless sea holds endless possibilities.
A small ember star shoots across the sky, and dives into the water in a dazzling display of light, power, and beauty.
Slowly one by one, more begin to follow, then it begins to rain.
The sea glows as streaks of light pierce through its surface and slowly fades away.
You sit quietly on the beach as one star, the mother of light, swoops down into the water in front of you.
As it hits a huge wave of sparkling sapphire rises over and wraps around you.
You take a deep breath as the cool wave of light gently swirls around you.
You close your eyes and begin to fall.
You open your eyes again, in your room, on your bed, staring at the ceiling.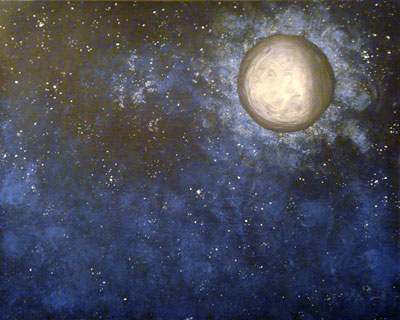 © Allison H., Vancouver, WA