Judgement Of Sun
September 15, 2012
The sun rises
As moonlight dies
The drifting tied
Of poison sea
Retreats and hides
The sun is harsh

Harsh Light
burn my flesh
I wonder why
The sun, so kind
That gives life and joy
Burns my flesh

Am I not worthy?

Is there something wrong?
With me?
The blazing fire
In black abyss
Of nothingness

How long has it been?
Since it burns my skin?
Since birth
Is it me?
Or am I just
Speaking insanity?

No it is not insane
I am not the only one
The sun burns
Flesh of man
Am I weaker than the others?

They do not care
Their skin warm
Red, but they
They bask in light
They enjoy the sensation
Of murder to pale, soft skin

I wonder
Why I hate
My skin to breath
Warmth?
Burn Burn Burn
I hate it

The shadow
Cool, welcoming
Protecting my eyes
From scorch of blaze
Inferno in the sky
Why?

The sun is judgement
On human kind
Those of joy do not mind
To them the sun is warm
And kind
Those of despair... hide
From judgement of the sun

I hide...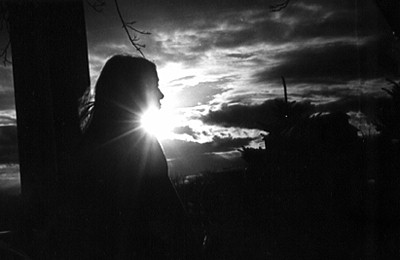 © Elizabeth G., Marblehead, MA