A Year's Disguises
September 13, 2012
A Year wears her four disguises
That linger for a time, until the suit is cast away.
The earth is sheltered in the shade of her cloak,
Overshadowed in the beauty of her divine shrouds.

Spring is the name of her first ensemble,
Spreading a feeling of birth and new life.
Her robes are of crystal blue,
And her mantle is of spotless cotton.
Her shoes are of leaves, petals, and feathers,
And beneath her feet, tiny green blades splinter and shudder.
Her hair is as the cold droplets of rain,
And when she laughs, rivers roar,
Thunder claps, and newly-hatched birds burst into song.

Summer spreads great joy,
Her crown of gold gives warmth
And blesses men with harvest.
Children splash in the threads of her clothes,
And run in the folds of her golden, curly hair.
Her dress is of the earth,
Her shroud is of the shining southern seas.
Her feet run bare on miles of golden sand,
And her voice is like a crashing wave.

Her loveliest dress is yet to come,
For autumn surely spellbinds some.
On her fingers are rings of chilly cotton clouds,
And her whisper whistles through the bare branches of trees.
Her dress is orange, red, and green,
Her hair is a golden brown.
The grass withers beneath her feet,
Her tears fall to the ground in colors of brown, orange, red, green, and gold.

Winter is her quiet time,
For her voice is never heard,
Yet her frosty breath echoes in the silence.
Her shroud is the frozen ground,
Her mantle is the gray, heartless veil of clouds.
Her limbs are like the bare trees,
And her tears fall in flakes to the ground.
Her hair is a string of icicles,
And her crown is a Christmas wreath.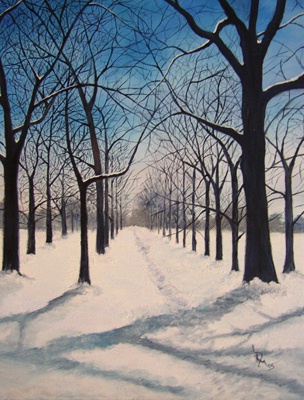 © Lauren M., Scotch Plains, NJ