The Curtain Call
September 13, 2012
With nerves on edge, excitement still fills you
As you arrive a few minutes before the call.

Passing through the dressing room, you take in the atmosphere,
Music pulsing, clothes being tossed, stepping on bobby pins.
Pulling the costume over your head surrounds you with its old scent
Full of memories and change

Your lipstick smudges and it's all you can taste,
but it's so familiar, you don't mind.

Showtime.

The heat of the lights on your skin fills you
As sweat begins to drip from the forehead.

You play the part.
You dance the dances.
You sing the songs.

And then it's over.

The warmth from your fellow companions fills you,
As you grab hands for the final bow.
The roaring applause is overwhelming.
You're taken aback as you realize it's the last time.

No more will you share your safe haven,
It's someone else's home now.

The curtain closes as you watch the spotlight slowly disappear.
The warmth slowly fades as the darkness surrounds you.
Your hands release from your confidantes'.

Now tears fall to your mouth,
A taste you are still familiar with.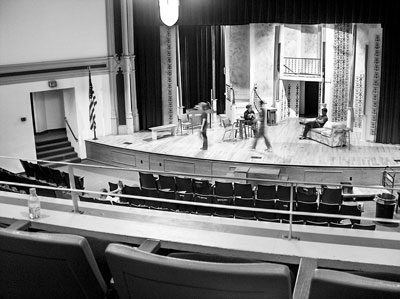 © Sean C., Princeton, IL