It was me, and it still is
September 11, 2012
When I say you don't know,
Continue to play the song
When I say stop, you are too weak
Embarrass me
And play more

When I tell I cant go out with you
Call me till I agree
When I say I won't kiss you
Give me your jacket
And stay near

Stay.
I prey for you.
Crying, but trying to laugh
You don't want to see that part of me.
Stay here.
Let me laugh at you.
Reply rapidly and shush me up.
Then laugh at me.
Don't scare me anymore.
Let me be.

Save me.
And listen to the songs
The songs
Of you
And
Me.
Even if my mind didn't realize it before
You sent a message to me
Long time before
That you were about to leave me
Through all the songs
You made me listen to
Sharing the music while looking at the road.

I'm sorry, that
I still don't let you go.
But they say…
Yes, they say,
Sometime, I will have to say goodbye.
I'm missing you
In every song I hear
Every tear I let
Every positive thought I make
Every time my eyes graze at the sky
I'm thinking of …
Memories.

Bitter, hard, but tasty memories, which I want to chew for the rest of my life, and let them stay in me. Never let me go.

And as I kissed you,
Coldness fulfilled me.
And I told her
:I kissed him, mother!
And she answered in a way
Which cannot be described as comforting or
Contrary
:Dear, he finally got your kiss.
Yes.

I love you.
Neither hundred things I do for you
will be enough to calm me.
Calm me, so I know you are satisfied.
Because it wasn't the kiss I wanted to give you.
It was me, and
It still is.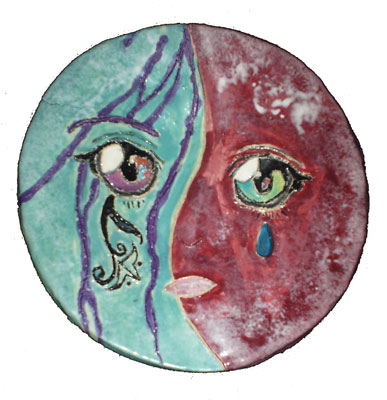 © Angel V., Tecumseh, MI