A Lovely Face
September 10, 2012
He looks into the coffin
But he doesn't see what's there.
There lies an old, wrinkled woman-
Her hair white and her face blank.

He sees it not.
He sees her as a teenager-
Bold, funny, irresistible, and enchanting in her youth.
He sees her head thrown back in laughter,
The sweet kisses they shared,
And all his lovely children that she bared.
He sees himself slipping a ring on that dainty finger
And her joyful, contagious smile as he did.
He remembers how she worked until her bones would ache,
Frown in sorrow which made his heart break,
How they grew old though he saw not her flaws
And how she cared for him in his illness-
Her lovely face like that of an angel's.

The onlookers hear him murmur, "what a lovely face."
And watch in shock and slight appallment
As he bends down
And gives her cold lips one last sweet kiss
To say goodbye to that lovely face.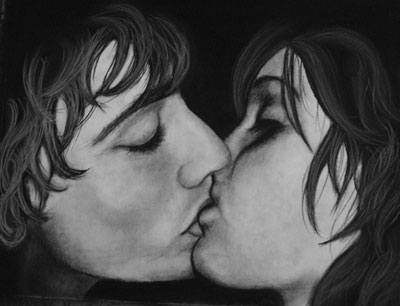 © Anna Y., St. Robert, MO