BALLOONS
September 10, 2012
Balloons
Fly above the clouds,
and float beyond the stars.
As free as air,
and light as a feather.

Red, blue, black, purple green
any color you can imagine
flying from children's hands
into the blue colored sky.
Fly balloon, fly.

Are sold throughout the world,
thanks to the balloon men.
Seen at grand events
or grocery stores,
they mean so much to
the girls and boys.

We always wonder
how far they go.
How high they fly,
until they pop,

We wonder if they ver
reach the moon and stars,
or if they pop
before the clouds.
We hope they float a little while,
before they fall,
into little tiny pieces.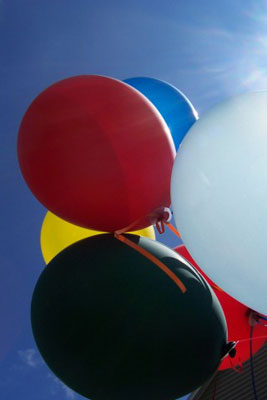 © Simone P., Summerville, SC