The Spaceman
September 10, 2012
My oxygen will be empty soon
Alike my heart that is surely wilting,
After the short lived bloom of summer.
Timeless stars of ours surround me,
In this lonely space that you have left behind.
What we created was made for two,
Yet it is only me that seems to be crumbling.
Not you or the universe around me.

I float by,
Above and between planets,
That once seemed so perfect.
The steam must have faded.
The sunshine I glance upon still smothered
In the burning rubies that I recall as memories.
They are far too bright,
I can never look for too long.
Is It cliche to say
That hope will never burn out?
(I pray with little faith) for a supernova.
Or at least a brief eclipse.
It sits there golden and glittering,
But only to a fool like me.

Time heals nothing.
It partners with pain and grows like Ivy.
I guess that you are my Artemis.
Forcing it to stretch and reach out,
To every fragile stitching of my suit.
Ripping at the seams.
I will get burnt by what I thought would one day
Save me.

I will be smothered by you.
Even my vision laced with hookers green comeliness.
Only shadows and silhouettes of reality,
Outlined by the glittering gold
That creeps behind everything, just whispering.

How will I ever shine a new light,
When you take up most of my sky?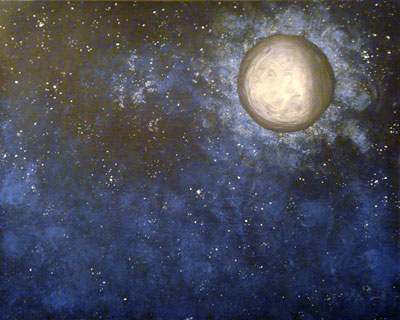 © Allison H., Vancouver, WA