Journey to a Home
September 8, 2012
I tottered through to the ocean as if I was a baby taking its first steps. The beach was precarious. Rotted food, broken glass, and crass trash remind me the beach was once inhabited with life, not peril. But, I was not afraid.
My body, entangled in a mass of minuscule golden nuggets, ignored the savage Sun. I was on a quest. Every second I felt the sizzling Sun shriveling my skin was one second closer to revival. Refreshing waves whispered my name. My cowardice self was devoured by the savage Sun and a confidence rose out of the ashes. The cloudless day made the Sun striking. My Sun shined with the brilliance of a thousand stars and tried to blind me. But, I knew to open my eyes.
My utopia was right before me. Rays of sunlight made the ocean sparkle. A million fireflies twinkled in each droplet of water. Friendly waves embraced me and the water replenished my meek soul. My copper skin glowed in the royal blue expanse. One step at a time I disappeared into the only thing I could remember; the only thing that was still perfect in the world. Knee deep, my calves tingled at the familiar feeling of wrasse nibbling at my skin trying to harass me. But, I was home.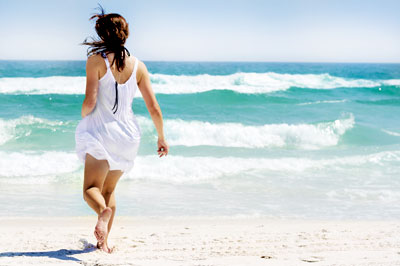 © Rebecca B., Marietta, GA