Angel
September 6, 2012
Woke up from slumber,
and hopped off the bed,
peeking out the window,
I see a silhouette.

Squinting my eyes,
I saw her approaching,
her appearance was vivid,
she was fiercely charming.

Resting on the tire swing,
humming a melody,
sounding more like a lullaby,
It was totally hypnotizing.
She shot a glare at me,
and then returned to her fantasy,
covered with a black satin robe,
that reached her toes.

I was so desperate to talk to her,
before my mouth could form words,
she held up her hand, silencing me,
as she knew what I was about to say.

Then she said something that terrified me,
it sucked out all the breath from my lungs,
sending shivers down my spine,
and sweat bathing my body.

How could this beautiful creature be,
an angel of death, a servant of God,
cursed to steal souls from the bodies,
and retrieving them to whom they belong.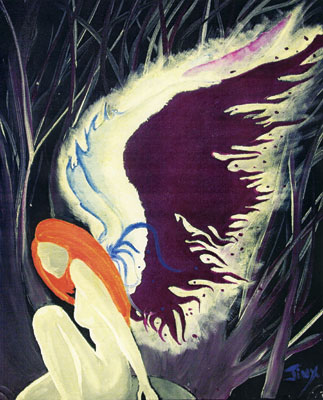 © Megan B., Youngstown, OH