Money...Money...Money...!
September 5, 2012
MONEY...MONEY...MONEY......
SSS...Sears a pain
Whenever money proves to be a bane
But when you got large money,
Everyone demand," When's the treat, sonny?"

From a beggar, to the superintendent police,
Currency is the only solace.
The quicker the money passes,
The Culprit's life- a bed of roses.

Even at silence's declare -subtle,
Money's mute language can be understood without subtitle.
Being at the prick of justice's knife,
All just for a lavish life?

All the gruesome crimes committed,
From pick pocketing to cold blooded murder (some of them omitted!)
Is no one there to give a verdict against them?
Now...Who is going to bell the cat...ahem...!

Money does everything, they say
In the life of people, it plays and pays
From a rag-picker to a successful tycoon,
When money is seen, the head swoons.

From Napoleon to the great Hitler,
Power was worth some (some?!) Slaughter
"The mills of god grind slowly,
But they grind exceeding small"... told very truly.

Whatever money achieves, it cannot buy everything...
Virtues are a better 'something'
All the money you stock and save...
Not a penny accompanies you to your grave.

Like how the Earth revolves around the sun,
Our lives revolve around money like bees around pollen,
Hey money...what d 'ya want??
And its dark answers give us, lot 'a haunts...

A menacing killer, to turn you into a loony
Turns your character into a phony
When all's never well,
You turn out to live in hell...

If money given more value,
It can cost your life, understand...will you?
"besvärja my lord",weeping' or repenting',
Never to get you out of time's serpentine...


Better late than never...
Change your ideals forever...
The worst enemy at your nearest reach,
And later...you have no chances to beseech...

Money... Money...Money... we therefore, reprimand,
To follow as a Chattel to our commands,
We not now thou slaves,
We shall not be thee slaves...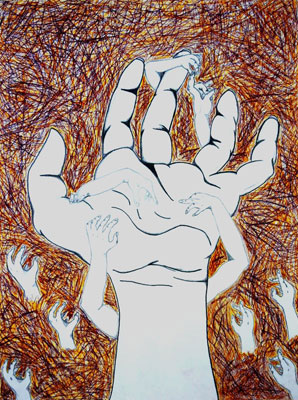 © Ariana R., New Orleans, LA