The Story of a Fallen Man
August 25, 2012
There once was a man,
A man of happiness and love,
A man who always had a game plan,
Innocent as a white dove.
A certain event had began,
An event that tore and ripped the man's emotions,
Abuse to the highest span.
All of his notions,
Massacred at the spot,
Flipped up-side down as he started to stop going up, up, up in the sky.
At that moment, he got caught
By thousands of chains and he lost his battle cry.
He was dragged down and slapped against the ground
Kindling under his body, an upward movement proving to be arduous.
A purple cloak now being placed over him as he had been drowned.
Whilst he was on the ground, his body was invaded by a bunch of acanthocephalus.
Death had risen from the ground in a vast, shadowy movement,
His hands gripping the cloaked soul and assailed it down to Hell.
He stole the suffering of the soul and had strided towards aggrandizement,
Returning the suffering to the body, he kicked the soul to a flame cell.
The soul suffered in the flame cell until God appeared and illuminated the path to life,
The man appearing ecstatic as he was granted a second chance.
The love of his life kissed him, handing him a knife,
To which the man swiftly actuated a dance,
This dance turning to a murder act as he annihilated the pain within him,
Blood around him, drip, drop, drip, drop.
Once his pain had been eliminated, he took his Friggs, him being Eros, taking her to the brim,
The brim of happiness, remaining there once and for all, his life never again going chop, chop, chop.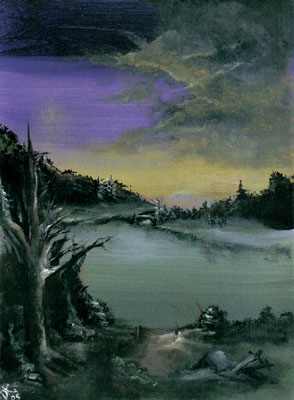 © David K., Birkenhead, UK