What He Hasn't Got
August 27, 2012
He's got
the motorcycle boots
the pierced eyebrows
the jaded tattoos
the crooked grin
the wicked intentions
to steal away the new of the virgin
in exchange for the rue of the sin.
He's got
the fire in his charcoal veins
the swagger of the victor that remains
the confidence that reigns
in the cruel city that cries
he has loathe and love for her lies
prostitute unafraid to rebel against the cold wind
screaming by.
He's got
all the smoke and mirrors illusion
in the unashamed stare or meaningful glance
a trance of cutting edge intrusion
to him only passion stands a chance
because romance is mere delusion.
He's got
the bad habits
of smoking cigarettes
getting innocent girls undressed
risking everything for a bet
using his fists to settle a debt.
He's got
the bedroom eyes
that kind that lure you in
into alluring late night lies
one of those velvet voices
sweet words encouraging
dangerous choices.
He's got
skin that feels like midnight silk
a touch to smooth moons and smother stars
to know Heaven and Hell's lustful guilt
to ignite a war between the light and the dark
spite against the Earth's unrelenting tilt
the Sun and Moon longing for each other's heart.
He's got
the wornout promise to commit a thousand crimes
swear a thousand lies
if only to burn a lovely curse forever by her side
for a girl he claims carved constellations into his empty skies.
He whispers, "To make your lonely Hell a Heaven all our own
my Angel, some think me a Demon clearly shown
in reality, a misunderstood man with severed wings
whose heart has never flown, weighted down
as if made from stone, keeping me detached and alone
until I met you
until you sang silver lining into my razor-edged life
danced with beneath the neon lights
vanquished my shadows, my evils of all kinds
your parted lips and wide eyes are undiscovered finds
let me love you, and I will never leave you behind
let me love you, and I will belong to you for the rest of time."
He's got
the sense that she suspects the difference
between what is scripted and what is real
but he expects that she's made of emotion, too
and will fall victim to the way she feels
her heart stutters and she seems breathless and choked
unsure of the lies he forged in a faltering hand
promises veiled behind curtains of smoke
but his words are the lyrics and music of lovelorn band
torn amid chaos and desire she drowns in the notes sworn
"Beautiful girl, change everything I am," and
she slips into his waters like liquid sand.
He's got
arms to lose yourself in and catch your breath
with the addiction of alcohol, the intensity of meth
a hold to make you feel most alive while on the verge of death
the kind of kiss
to scatter thoughts
find morals amiss
to wake alone against
without the man your worst half couldn't resist
lost in an deceptive sea, cruelly dismissed, left listless and adrift
to the sunrise's empty backdrop
the feeling fades as things come undone
cracking and splintering her, his forgotten someone
innocent soul he will ridicule and shun.
He's got
himself in a snare, leaning against a brick wall
in the cold night air
solely for the soulless Player, Karma plays her cards fair.
He's in a leather jacket as she waltzes past, girl with the wild hair
and the carefree laugh
contemplative look, ink stains on her fingers, books at her side
he runs to the stairs, something foreign and unfamiliar tangling inside
she lifts her starry eyes, and for the first time, he's tongue-tied
she levels him with a look as if he's made of glass
and says with an air, as if he had asked, "I'll pass."
He's got
wild and untamed as he may be,
tempting and beautiful as he may seem,
Me...
only in his wildest dreams.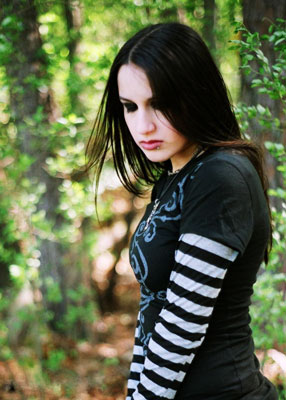 © Rebecca B., Marietta, GA