Forgotten Swing Set
August 27, 2012
On the eve of my graduation,
I took a stroll down a forgotten path;
Letting the expectations and the worries and the years peel off me,
Until I finally felt small but sure,
Light but strong.
And then I just jumped; up and down, back and forth, all around,
Until I landed in front of an old swing set; an old friend, rusty from the wait.
I clambered onto my rightful seat;
Vigorously flapping my legs back and forth,
Like the wings of a baby bird taking flight for the first time.
Suddenly I was off;
Climbing higher and higher into the air,
Until I reached that height where everything stopped,
Where the world held its breath,
Where I had my first taste of infinity.
But then, everything started moving, the world starting breathing, infinity collapsed,
And so did I.
I fell like a bird shot out of the sky,
Face first onto the unforgiving ground.
In bittersweet silence I brushed myself off and made my way back;
Picking up the tossed away expectations and worries and years as I went,
Back to the eve of my graduation.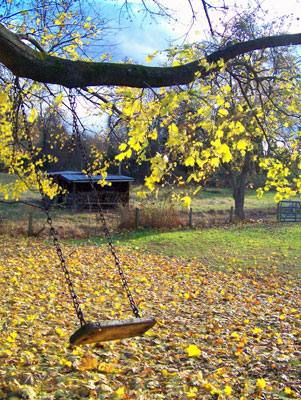 © Margaret G., Hillsborough, NJ