A Seed Within The Universe
August 21, 2012
I want to swim in the vast, velvet universe;
feel the gentle shining light radiated by the moon illuminate my face.
See the poignant contrast of the iridescent stars on a darkened night canvas,
feel the subtle warming watch of the twinkling eyes of the universe,
drawn to and captured by their beauty.

I want to delve in to the still, calming ocean,
sink to the bottom like a lost, discarded pebble,
small and insignificant to the world, I blur in to the bleak background.
Feel its chilling breath numb my body to the extent of gradual,
tingling warmth pervading through my veins.

Lying on the ocean bed, the soft, damp sand my spongy mattress,
the navy sea my devouring duvet,
while the slender fingers of the sea plants massage my feet,
the constant, low murmurs and chilling whispers of the ocean lull me in to a sleepy trance,
the pressure of the still sea blanket heavy on my chest.

Gradually the pressure builds to a state of weightlessness and my body floats up slowly,
aided by the slimy fingers beneath that support my rising frame.
I am the fish on the end of a hook on a fishing rod,
a force is summoning me from my sleepy slumber,
above an anonymous force is pulling me up with a length of rope.

I am a tiny seed in the world, break my tender shell and inside me lay the universe.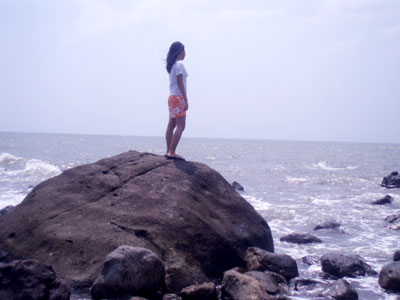 © Grace L., Bacolod City, Philippines